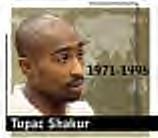 Tupac Amaru Shakur, also known as 2pac, was one of the greatest and most well-known gangsta-rap artists before his fatal shooting in Las Vegas on September 6, 1996. In many ways his life was too short, he was only 25 and had most of his life in front of him. Many people think he is still alive and there is a lot of evidence to support this, but there is only one person who really knows; Suge Knight, the man in the car with Tupac on that fateful night.

Tupac was born on Wednesday, June 16, 1971 in Brooklyn, NY. He was born without a father and his mother, Afeni Shakur, a founding member of the Black Panther Party, was being charged with conspiring to bomb several public areas in New York City. Tupac was named after an Inca chief named Tupac Amaru, which means "shining serpent" and Shakur is arabic for "thankful to God".

The first few years of his life Tupac's family moved between the Bronx and Harlem. Many times they would end up in a homeless shelter because his mom couldn't pay the rent. Growing up, Tupac was a well rounded boy. His elementary school teachers said that he was a delightful student. In September, 1983, the 12-year-old Tupac joined a Harlem theater group and in hs first performance he played Travis in "A Raisin in the Sun". Tupac enjoyed acting and became very good at it.

In 1986, at the age of 15, Tupac's family moved to Baltimore, Maryland. Tupac attended The Baltimore School for the Performing Arts. Here he showed great talent and potential while making a lasting impression on his teachers. In Baltimore Tupac also started writing his first rap lyrics and performed under the name MC New York.


Unfortunately for Tupac he had to quit the school at Baltimore and move along with his family to Marin City, California, in June, 1988. He had just finished his junior year at the Baltimore School for the Performing Arts. After moving to California, Tupac started hanging with "the wrong crowd." Soon he got involved with criminals and started selling drugs; this is the path which later led to his shooting. In September of that same year, Tupac's stepfather, Mutulu Shakur was sentenced to 60 years in prison for his involvement in a 1981 armored-car robbery.

In 1990 Tupac started his way up the top of today's rap music industry. He joined the rap group Digital Underground as a dancer and rapper. On Thursday, January 3, 1991 he made his recording debut by appearing on Same Song from Digital Underground's This is an EP Release.

On Tuesday, November 12, 1991, Tupac's first solo album, 2Pacalypse Now, was released. This album contained the successful singles Trapped and Brenda's Got A Baby, which launched his career like a rocket. Shortly after the release of Tupac's solo album, he filed a $10 million lawsuit against the Oakland police for alleged brutality following an arrest for jaywalking. This lawsuit gave him much popularity and caught the eye of the Earnest Dickerson and landed him a spot in the movie Juice. On January17, 1992 he made his big screen debut in the film Juice, earning him praise for his portrayal of Bishop.

In April 1992, Ronald Ray Howard, 19, shot a Texas State Trooper. When asked for his plead at the trial, Howard's attorney claimed that Ronald was incited by 2Pacalypse Now, which contained lyrics about killing police. During a search of the car in which Howard was driving, 2Pacalypse Now was found in the tape deck.

Later that year, on August 22, Tupac had an altercation with some old acquaintances in Marin City. The fighting turned to shooting and resulted in the death of a 6-year-old bystander and the arrest of Tupac's half brother, Maurice Harding. Harding was later released due to lack of evidence. The bad times for Tupac just kept coming. One month later, in September of 1992, Vice-President, Dan Quayle denounced 2Pacalypse Now by saying "This album has no place in our society".

In February, 1993, Tupac released his second album, Strictly 4 My N.I.G.G.A.Z., which was an even bigger success than his first, and eventually sold platinum. On this ablum were the hit songs, I Get Around and Keep Ya Head Up.

The following month, on March 13, 1993, Tupac got into an fight with a limo driver in Hollywood. The driver accused Tupac of smoking marijuana in the car. Tupac was arrested but the charges were dropped. Just weeks after being arrested for drugs, Tupac is arrested again. This time for taking a swing with a baseball bat at a local rapper during a concert. This time the charges weren't dropped and Tupac was sentenced to 10 days in prison.

A few monthes later, on July 23, 1993, John Singleton's Poetic Justice was released. In this film, Tupac appeared along with Janet Jackson. This role showed the world that music was not Tupac's only attribute; that in fact he was an exceptional actor as well.

Later that year, on October 31, Tupac was arrested again, this time for allegedly shooting 2 off-duty Atlanta police officers who were harassing a black motorist. Once again the charges against Tupac were eventually dropped. Two weeks later, on November 18, a 19-year-old woman accused Tupac of sexual harassment and filed charges against him. Tupac was released on bail while the trial was in progress.

On March 10, 1994; while on trail for sexual harassment, Tupac was arrested once more for punching out director Allen Hughes. The motive for the assault was that Hughes had dropped Tupac from the motion picture Menace II Society. Shakur was sentenced to 15 days in prison.

At the same time as the trail and doing time, Shakur was working on another movie, Above the Rim. On March 23, the movie was released. Tupac played a troubled drug dealer who eventually gets shot three times in the chest. The soundtrack to this movie featured the song Pour Out a Little Liquor, which was recorded by Tupac's group, Thug Life and sold over 2 million copies.

On September 7 of that same year, two Milwaukee teens murdered a police officer and once again, Tupac's lyrics were cited as their inspiration. This time it was the song Souljah's Story that had supposedly inticed these teens to murder. Just two monthes later, on November 30, Tupac was shot 5 times and robbed of jewels for about $40,000 in the lobby of Times Square Recording Studio. He was rushed to a nearby hospital and emergency surgery was performed on him to remove the bullets. Tupac checked himself out of the hospital less than 3 hours after surgery. Although Tupac thinks that some member of Bad Boy Entertainment ( a New York based record label ) is responsible for the shooting, the case still officially remains unsolved. All of this happened while he was on trial for sex and weapon charges. The shooting happened just hours before he was scheduled to appear in court for the verdict. The verdict came back guilty on the sexual abuse charges but the day after he was acquitted of the weapons charges.

On February 14, 1995, Tupac was sentenced up to 4 and a half years and immediately began serving his time in New York's Rikers Island Penitentiary. While in prison, Tupac still wrote lyrics. On April 1, 1995, Tupac's third album, Me against the World, debuted at No.1 on Billboard's pop chart. This album was fueled by the single Dear Mama and went double platinum in 7 months.

In October of 1995 Death Row Record's CEO and co-founder, Marion "Suge" Knight posted $1.4 million in bail to get Tupac out of jail while waiting for his appeal on sexual abuse charges. Once released, Tupac immediately flied to L.A to sign with Death Row and start recording his fourth solo album, All Eyez On Me.

Five monthes later, in February of 1996 the fact that Tupac had been sleeping with Faith Evans went public. Evans is the wife of The Notorious B.I.G., also known as Biggie Smalls or just Biggie. He is a New York based rapper who was under the Bad Boy label. Evans denied that she ever had slept with Tupac. This enfuriated Biggie and he made threats on Tupac's life.

After the affair controversy, on February 13, 1996, Tupac's Death Row debut, All Eyez On Me was released. It was rap music's first double CD and was an instant hit. Next month, on March 29, 1996, Death Row employees and Bad Boy employees faced off at the Soul Train Music Awards in Los Angeles. Words were exchanged, tempers got out of hand and a gun was pulled.

On April 25, 1996, All Eyez On Me went quintuple platinum. Just a few weeks later in May, Tupac and Snoop Doggy Dogg ( another Death Row rapper ) released a video for the song 2 of Americaz Most Wanted, which was from All Eyez On Me. In this video, caricatures of Biggie and Sean "Puffy" Combs ( Bad Boy Ent.'s CEO ) were punished for setting up Tupac's shooting in February of 1995.

Later, on June 4, 1996, Death Row released the single by Tupac called Hit 'Em Up. This song condemns Biggie, Bad Boy, Mobb Deep, and others. In this song, Tupac raps about his affair with Faith Evans, makes fun of Biggie's fatness, makes fun of a member of Mobb Deep who has sickle cell disease and threatens to kill them all.

By this time, emotions between Death Row and Bad Boy are running high. On September 4, 1996, Tupac returned to New York for the MTV Music Video Awards. Tupac took many precautions to preserve his life. He had an entire entourage surrounding him, an unmarked bodyguard at every exit to the arena, a walkie-talkie in his hand the whole night, and a bullet proof vest. Still he got into a scuffle with some members of Bad Boy, but nothing serious broke out.

Just days later, on September 7, Tupac and Suge Knight attended the Mike Tyson - Bruce Seldon fight at Caesar's Palace in Las Vegas. During the fight, Shakur got into a scuffle with a man whose identity is unknown but police have ruled him out as a suspect in the murder. Tupac and Suge left the fight in Knight's BMW. While on the strip, a white Cadillac with four black people pulled up alongside of them at an intersection. One person got out of the car, walked up to their BMW and opened fire. While trying to jump in the back seat, Tupac's chest was exposed and he was hit 5 times out of a total 13 shots. One bullet grazed Suge's head. After the shooting, Suge turned the car around and headed the other way. They were both put in an ambulance and taken to the University of Las Vegas Medical Center. Suge was stitched up and released the next day, but Tupac underwent three surgeries. During the first of these surguries, his left lung and the bullets were removed. The second and third surguries were performed to stop the internal bleeding but the site of the bleeding was never found. On Friday, September 13, 1996, Tupac died at 4:03 PM. On November 7, Tupac released another album under the alius Makaveli. The album was entitled The Don Killuminati The 7 Day Theory. After his death he still had 3 unreleased movies and two unreleased albums.

There is much controversy surrounding the death of Tupac. There is a lot of evidence to support the notion that he faked his death. On the cover of his album, Makaveli, The Don Killuminati The 7 Day Theory he is being crucified like Jesus. Could he be planning a resurrection? The name of that album in itself is a mystery. How come no one saw the shooting, after all, the shooting took place on the Las Vegas strip after a huge heavyweight fight. If there was a shooting there had to have been some witnesses. There is a lot more evidence to support the "still alive" theory. Weather you believe him to be alive or not, there is no doubting that he had a major impact on the music industry today. May his legacy always live on!